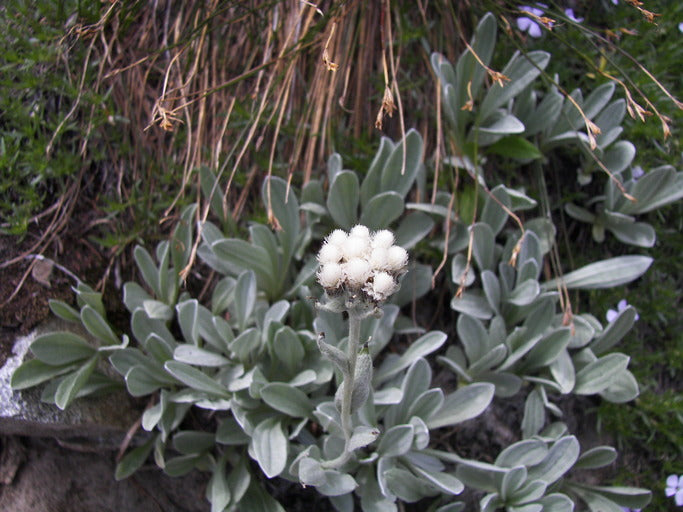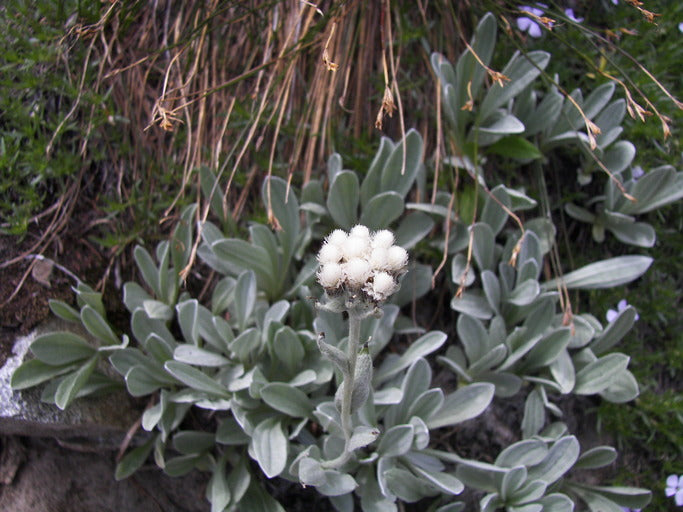 Splitrock Environmental
Wooly Pussytoes
Wooly Pussytoes are a tufted perennial that has a branched stem base, densely wooly leaves that are mostly basal, and greenish white composite flower heads.
Latin Name
Antennaria lanata
Type
Forb
Height and Spread
10 – 20 cm tall.
Forms small mats – Up to 30 cm.
Bloom Colour
Greenish-white.
Bloom Months
From early to late summer, depending on location in subalpine or alpine.
Foliage Colour
Silver-green.
Seed Months
Variable – depending on blooming time.
Light and Water
Often grows in open meadows.
Enjoys a moderate amount of moisture.
Ethnobotany Information
The stems and leaves of a number of different types of pussytoes were chewed by indigenous peoples as a cold and cough medicine. As Wooly Pussytoes generally only grow in the alpine and subalpine it was less commonly used.
Wildlife Uses
The wooly mats formed by this plant can provide habitat and food for small and larger mammals.
Garden Uses
Wooly Pussytoes is difficult to grow in a garden setting as it normally only grows at higher elevations. It could be a good addition to a native plant garden in a colder or shadier site.
Facts
It is thought that the densely wooly covered leaved and stem help the plant retain heat and reflect harsh ultraviolet rays in a high alpine environment.
Propagation Techniques
Wooly Pussytoes can be propagated by seed collected late in summer.