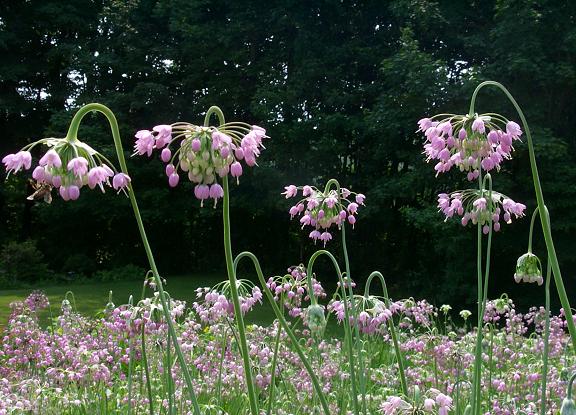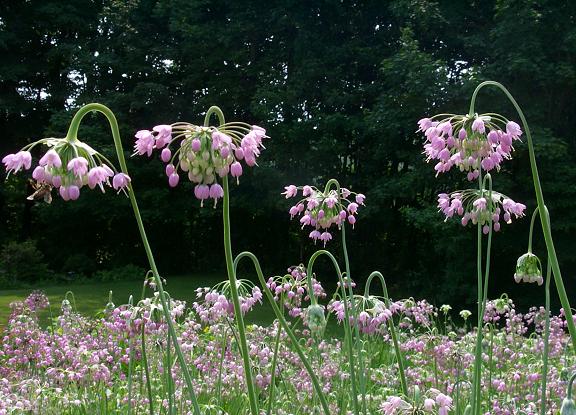 Splitrock Environmental
Nodding Onion (kwela'wa úl)
Nodding Onion has slender leafless flowering stalks with small bulbs. The entire plant smells strongly of onion. When flowering it has small pinkish bell shaped flowers. Nodding Onion is one of the most common native species in the South Interior and it has a long history of use as a food source among First Nations peoples.
Latin Name
Allium cernuum
Type
Forb
Height and Spread
Up to 50 cm tall.
Up to 5 cm spread.
Bloom Colour
Pink to rose-purple.
Bloom Months
June – August.
Foliage Colour
Bright green.
Seed Months
Seeds mature after flowers on an ongoing basis.
Light and Water
Generally grows in open forests and meadows.
Grows in dry conditions, generally absent from wet sites.
Ethnobotany Information
Nodding Onion has a long history of use among all First Nations peoples of the South Interior. The bulbs were harvested before flowering and used raw, roasted, or dried and eaten on their own or to flavour other foods.
Wildlife Uses
The fluffy seeds of Narrow-Leaved Hawkweed are sometimes collected by birds or small mammals for habitat or nesting materials.
Garden Uses
Nodding Onion are a valuable addition to any garden as they have a sharp onion-like flavour that can be eaten raw or cooked. Even after flowering Nodding Onion is quite beautiful for landscaping.
Facts
The crushed bulbs of Nodding Onion were also traditionally used as a disinfectant and in poultices to reduce pain and swelling from insect bites.
Propagation Techniques
Nodding Onion is easily propagated by seed.