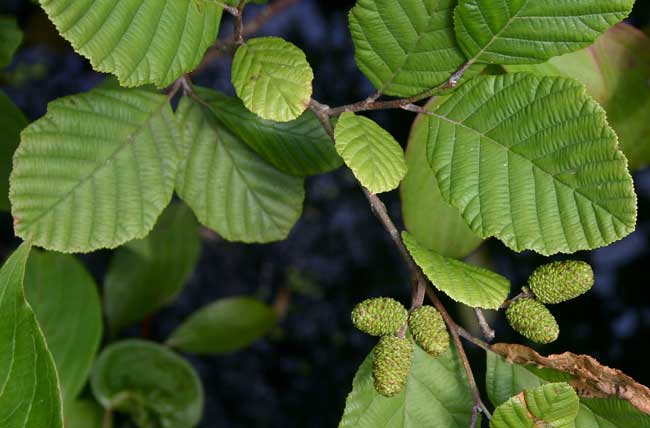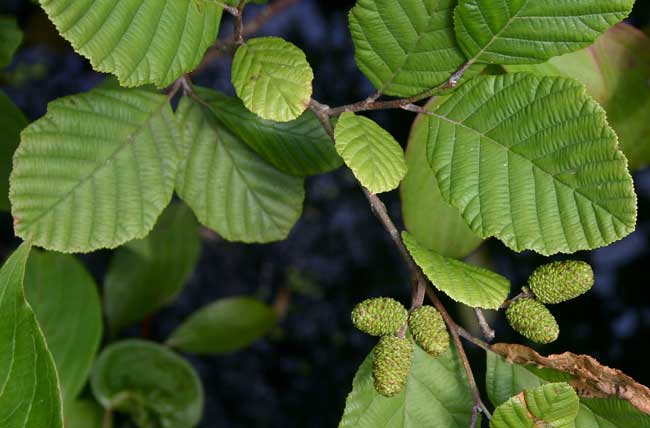 Splitrock Environmental
Mountain Alder
Mountain Alder is a large shrub or small deciduous tree with shallow lobed leaves that are green on top and pale and hairy below. They have distinct egg shaped cones that are very small in size. Alder leaves are easily spotted in fall because they stay green through until late in the season.
Latin Name
Alnus incana ssp. tenuifolia
Type
Tree
Height and Spread
2 – 10 m tall.
2 – 4 m in spread.
Bloom Colour
Mountain Alder have small inconspicuous catkins that develop before the leaves in early spring.
Bloom Months
Early spring.
Foliage Colour
Green on top and pale and hair below leaves.
Seed Months
Seeds mature in late fall and remain attached.
Light and Water
Generally grows in partially shaded areas.
Grows well in wet areas – typically along streams, ponds, lakes, or swamps.
Ethnobotany Information
Mountain Alder has traditionally been considered one of the best plants for smoking and drying salmon because it doesn't have pitch and does not flavour the food.
Wildlife Uses
Mountain Alder is generally of low value as browse for larger wildlife, though some deer have been known to eat it. Due to its thick foliage it can provide cover for many species of wildlife.
Garden Uses
In a garden setting Mountain Alder can be used near water features such as ponds for best growing conditions. They also prefer somewhat shaded areas, particularly before becoming established. With their thick foliage and small beautiful cones, Mountain Alder make a great addition to a garden or landscaped area.
Facts
Mountain Alder can be very beneficial for damaged soil because it is a nitrogen fixing plant. This occurs through nodes in the roots. For this reason it is sometimes used for reforestation projects.
Propagation Techniques
Propagation of Mountain Alder, like many other shrubs and small trees, can be done by either seed or cuttings. The seed is best planted soon after it matures in late fall.