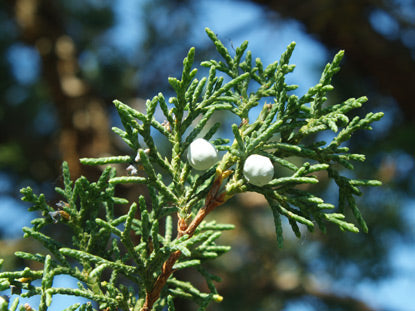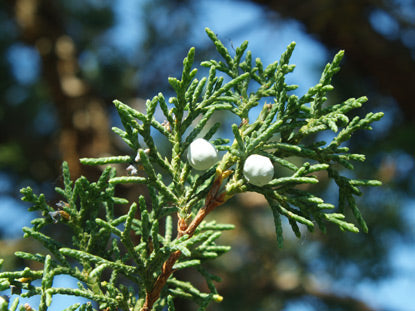 Splitrock Environmental
Rocky Mountain Juniper (púnlhep)
Shrub or small tree up to 20 meters, slender crown with drooping branches. The bark is thin, stringy, and reddish-brown. The leaves are pointy, sharp and needle-like when young, with age they become smooth and scale-like. The cone is berry-like, bluish purple with a white powdery coating.
Latin Name
Juniperus scopulorum
Type
Shrub
Height and Spread
up to 20 m (65 ft.)
Bloom Colour
none – but cones are berry-like and bluish purple in colour.
Bloom Months
Foliage Colour
grayish-green
Seed Months
September – October
Light and Water
Full sun
Ethnobotany Information
The plant was used as a body deoderant to conceal a hunter's smell from animals. Used during funeral services and to fend off spirits that may still be restless. Boughs were used as a fumigant and incense. The tough wood was used for bows and digging sticks, as well as fuel for smoking hides.
Wildlife Uses
Rocky Mountain juniper offers year-round shelter for birds and invertebrates. The berry-like cones are an acceptable food source for birds and bears.
Garden Uses
Works well in dry, rocky soils. The foliage is attractive in most settings. It can be pruned into formal garden shrubs, used as a visual screen, or planted as focal points in hedges.
Facts
Juniper berries are used to make gin, and its aromatic wood makes excellent cedar closets. It is also used for shakes, shingles, poles and posts.